Building Department
The Village of North Randall is a hub of retail, commercial and light industrial activity, ideally located near the intersections of several major highways. (I-480, I-271, State RT. 422, State RT. 8, State RT. 43 and Warrensville Center Road. Upwards of 50,000 vehicles, traverse these highways and roads daily.
The village of North Randall maintains its own State Certified Building Department, led by our Chief Building Official, Mr. Charles Horvath. The department handles all aspects of land development and building construction, including planning, zoning, building permits and inspections. This one-stop shop process greatly reduces the time and paperwork in the permitting process, saving time and money for our residents and businesses.
Economic Development incentives established by the administration include:
Establishing a Community Re-investment Area (CRA), this allows us to offer tax abatement of the increased tax value that a project will generate based upon the amount of investment and the amount of jobs created.

We are operating under a ten year Comprehensive Master Plan developed for us by the Cuyahoga County Planning Commission.

The development of a new Zoning Code for the entire Village provides more flexibility for development.

Establishment of a new Sign Code.

Development of a streetscape plan for the beautification of the Northfield Road Corridor.
Contact the Building Department
TINKERS WATERSHED AREA
A watershed is an area of land  that drains rain and snow into a common body of water such as a stream, river, or lake.  Our landscape is made up of multiple, connected watersheds.  The Tinker's Creek watershed drains 96.4 square miles and is the largest tributary to the Cuyahoga River. The watershed area spans 24 communities in Cuyahoga, Summit, Portage and Geauga counties.  Protecting Watershed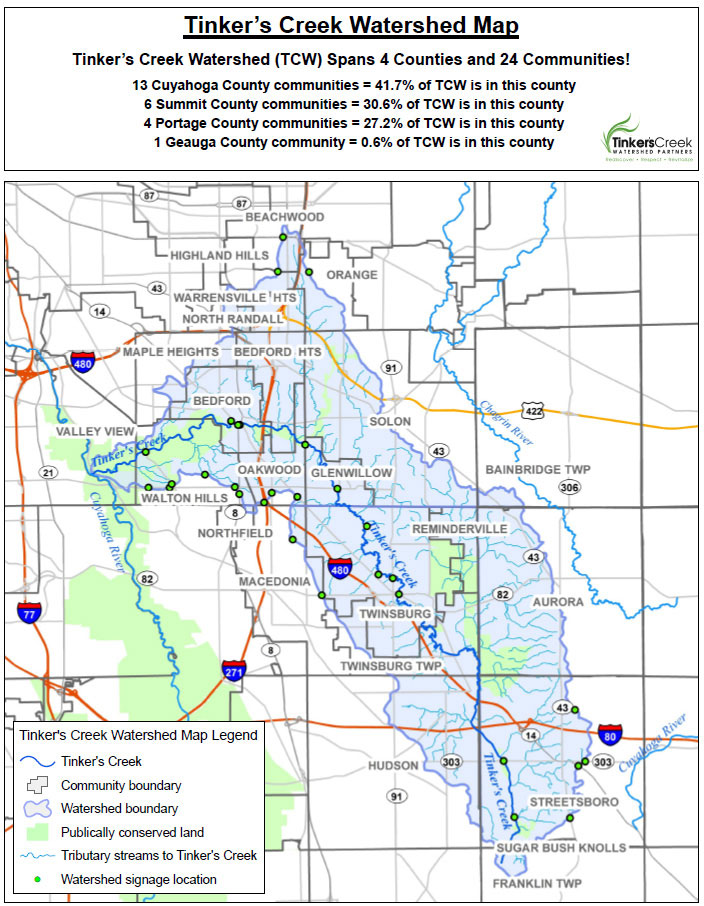 Building Commissioner
Building Dept Hours
9:00 AM – 5:00 PM
Permit Applications and Forms
Valuable Links
Government Links